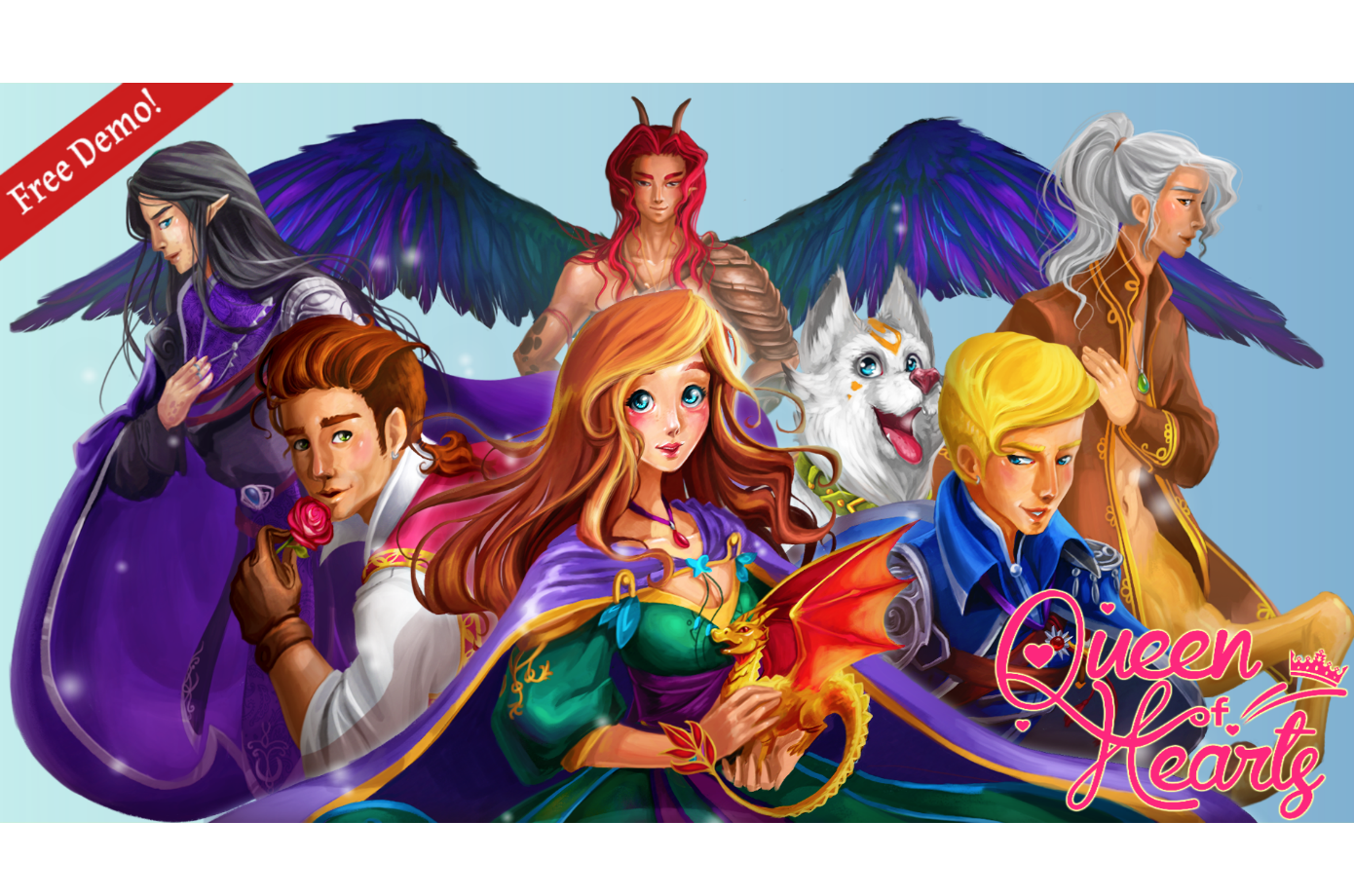 Queen of Hearts
Queen of Hearts - Out now
---
Yes, it's true! Thank you, guys for all your feedback and patience these past few years and I'm happy to share that the Queen of Hearts game is finally out! A few very important notes/reminders:
- Only the Prelude section is voiced. For those of you who've played the demo, there have been no changes to that section. I've added a 'Skip Prelude' option for that reason. Choose 'Start' in the Main Menu, and after setting your name, you'll have a choice between playing from the start or after the Prelude (Your choices in the Prelude do not affect the final outcomes/endings).
- For certain story reasons, the Aiden route is only accessible after getting good endings in the other 4 main routes.
- A cheat sheet is available to help you get good endings more easily but contains spoilers, of course.
We have done our best to check and playtest the game but if you do run into errors or spot major issues, please get a screenshot and share it with me, and I'll do my best to fix it/help you. Thank you so much and hope you enjoy the game!
Files
QueenofHearts-1.5-mac.zip
292 MB
Feb 27, 2022
QueenofHearts-1.5-pc.zip
327 MB
Feb 27, 2022
QOH Cheat Sheet.pdf
837 kB
Feb 27, 2022
Comments
Log in with itch.io to leave a comment.
Is there a recommended play order for the group?
Hi! No, not particularly other than playing Aiden last (which should already be incorporated).
There are CGs for good endings!
yes. I saw that. most games have several
oh oh just wanted to say thrace turned out to be my fav!!
Gosh, that was fast! As to your previous point, yes, I reduced my initial planned number of CGs due to cost and time considerations. But if the game does well, I would hope to add more content in future : )
that's such good news! too bad my holidays just ended, but I'll have something to look forward too when I get free time again ^^
OMGGGG, YAY, Congratulations
a pity you couldn't get the whole game voiced, but I'm excited none the less :) Imagine losing your fiance to a centaur
Hey, good to be back. Such a long time since the first time I laid eyes on this game when you released the first demo. Gonna enjoy this and feedback later. Congrats~